It's official…Americans are unknowingly ingesting plastic particles…and LOTS of them! In fact, it is reported that the average American – young and old – are ingesting on the average of 5 grams of plastic particles each week...equivalent to that of a credit card. Day after day and year after year. What you can't see isn't just hurting you…it's killing you slowly as surely as you breathe!
When does the risk of ingesting plastic particles outweigh the convenience of single-use plastics? Is it okay if your child is only ingesting plastic particles equivalent to 1/2 a credit card? How about if they're only ingesting equivalent to 1/10 of a credit card? I'm not one to judge your parenting, but I can't imagine why you're okay with your little ones ingesting even a tiny sliver of plastic at all!
AN INVISIBLE KILLER
If you wouldn't consider opening your wallet to feed your child a credit card, why would you let them ingest plastic particles from their food and water either? There are plenty of things that we can't see with the naked eye that are damaging to our health…and some often lead to death. You can't see bacteria. You can't see toxins. You can't see carbon monoxide. You can't see the flu coming. You can't see poison. You can't see E.coli. The list goes on and on of those things you have learned to accept as damaging and potentially deadly...it's time to accept what's hiding in your plastic containers too before it's too late for you and your loved ones!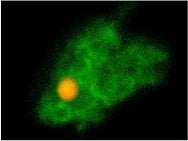 A particle of plastic in blood cell – Credit: Dr. Mark Anthony Browne
STOP SIMPLIFYING A COMPLEX PROBLEM!
For those of you who believe that it's as simple as "garbage in/garbage out" then you need a refresher course in biology. Those microscopic plastic particles aren't necessarily just passing through -many of them are making their way into the bloodstream…some are being lodged in the liver…some even penetrating the blood brain barrier! As if it can't get any worse, they are also being shared with our unborn through the placenta.
Ingested microplastic particles can physically damage organs and leach hazardous chemicals—from the hormone-disrupting bisphenol A (BPA) to pesticides—that can compromise immune function and stymie growth and reproduction. Microplastics in the water we drink and the air we breathe is damaging humans beyond our wildest imagination. Dr. Mark Anthony Browne
PLASTIC BOTTLES ARE THE BIGGEST CULPRIT!
Plastic particles are being found almost everywhere these days. From our air to our food…from sea to shining sea!

But the BIGGEST culprit comes under the guise of "good water" housed in plastic.

THERE IS NO SUCH THING AS GOOD PLASTIC and no water is safe to drink after it's been bottled in it!
The bottled water scam will one day go down in history for all the damage it's done to human (and all other) life, and it makes Bernie Madoff look like Mr. Magoo when it comes to deception and harm.
Hundreds of tiny plastic particles make their way into the water through the manufacturing process along with (up to) 20,000 chemicals. We've been warned for decades about the problem with BPA/BSA – chemicals that ABSOLUTELY disrupt our hormones. We're seeing children reach puberty in early elementary, we're seeing babies born with both male and female sex organs, we're seeing young boys with aggressive "man-like" behavior before they can even shave, and we're seeing countless couples unable to conceive. What does it take to JUST SAY NO to plastics?
My family said "no" to plastic water bottles years ago and we're not settling for less in the process. One reusable (safe) container and the best water system money can buy and we'll be good for generations to come. Absolutely NOTHING – no convenience – no habit – no appealing label like "spring" or "mountain" could get me to offer-up bottled water to anyone I care about.
So, how many plastic particles are acceptable to feed your little ones?
Consider yourself warned!
ADVOCATING FOR A SAFER ENVIRONMENT FOR OUR CHILDREN ALL ACROSS THE GLOBE!
IF YOU WOULD LIKE TO LEARN MORE ABOUT OUR WATER PROBLEMS THIS BEST SELLING BOOK IS A MUST! CLICK HERE!